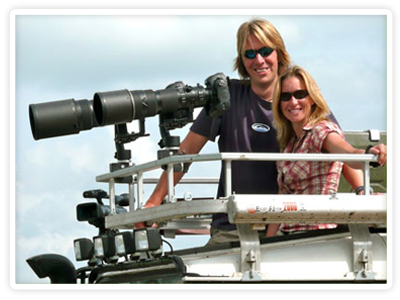 Based in the UK, but always travelling far and wide we are a friendly husband and wife wildlife photography team. Married for 14 years and both self-­confessed wildlife and nature addicts! We will happily confess that you will find us at our happiest discussing the days photographic highlights, whilst sitting in front of an open fire underneath the African sky and listening to the sound of a lion roaring nearby. Or in a cosy cabin nestled deep in the wilderness with the endemic wildlife our only neighbours.
You can read more about us in the text below and also in a recent interview with Wild Planet Photo Magazine by clicking on the link below.
An interview with wildlife photographers Andy & Sarah Skinner
Together we have a vast experience and knowledge of African and Canadian wildlife, especially the endemic predators and we love to share this knowledge and passion during our guided wildlife photographic safaris where we strive to see our guests departing with memorable memories and images. We currently run safaris to Kenya, Botswana, Tanzania and also Canada. Click here to understand more about our safaris.
Our safaris are run by our own UK registered company 'Images of Wildlife LTD' of which we are both directors. All safaris led by us offer full financial protection and we are also able to create bespoke itineraries for clients for Africa and North America.  For more details of financial protection offered please click here 
We are proud to have a strong conservation ethos, as well as an ethical approach to wildlife photography. Committed to playing our part in ensuring the survival of all wildlife species for future generations. Through sales of our photography we regularly donate to many conservation organizations such the David Shepherd Wildlife Foundation as well as local organisations such as Walking for Lions. Both fabulous organisations committed to the future survival of our natural species.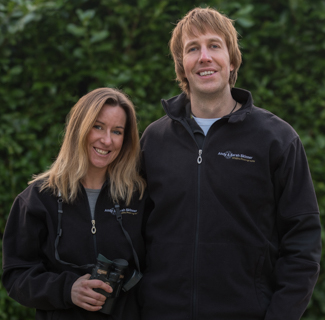 Whilst we capture images of many wildlife species from all across the globe we have a particular passion for photographing predator species, including the 'big cats' and bears. We spend much of our time in Canada's west coast and a large proportion of our time on the African continent. Where an abundance of spectacular wildlife provides plenty of photographic opportunities. A continent we both fell in love with over 12 years ago and where we have undertaken over 40 trips to date visiting: Kenya, Tanzania, Botswana, Zimbabwe, Namibia, Rwanda, Zambia and South Africa.
In addition, our wildlife photography expeditions have taken us to a number of other incredible countries including: India, Svalbard (Arctic), Canada, Iceland, Australia & East/Western USA, (including Hawaii) It is from these beautiful and interesting locations that we capture images of endemic wildlife and beautiful landscapes. Click here to see our gallery.
We are members of 'Nikon Professional Services' and shoot our images using a suite of professional Nikon Digital SLR cameras and lenses. This ensures we have the right equipment to capture high quality images. Click here to see our awards and press page. Sarah is also a member of FGASA (Field Guides Association of South Africa)  and holds a Level One field guiding qualification.
We also own a Land Rover Defender that is currently based in Zambia and used for our own personal photographic expeditions when in Southern Africa. We have fully modified it for the harsh African environment and to cater for all of our photographic requirements, including a photographic hatch, roof and window mounts. It is also well equipped with a roof tent, long-range water and fuel tanks, plus full camping equipment and spare parts. This ensures it provides for all of our needs in the bush and great flexibility for all of our African trips. Click here to see 'behind the scenes' of our adventures.
For our guided safaris and photographic trips we always use tried and tested camps with high standards of accommodation and excellent game viewing vehicles that are well sited to photography. To ensure the best safari experience we allocate a maximum of 3-4 guests to each spacious game viewing vehicle. Click here to see our 2017 photographic safari tours on offer.
We hope you enjoy perusing our site and if you wish to purchase a print or wish to enquire about our guided wildlife safaris please use the Contact Us form. Don't forget you can also find us on Facebook here and other social media to!

Sarah Skinner
As well as her photographic skills Sarah is deeply passionate and knowledgeable about many animal species, in particular the African predators and has undertaken a number of conservation & safari skills courses. In 2007 Sarah qualified as a FGASA Level 1 South African Field Guide and has worked on several African wildlife research projects. In addition as a 'wildlife spotter' for the Disney Nature  film 'African Cats', filmed on location in Kenya. Sarah loves all aspects of nature and applying her knowledge of the African bush for capturing images of animal behaviour and sharing her knowledge on guided safaris. In 2015 Sarah was accredited with a highly commended award in the Natures Best Africa competition and in 2016 won the mammals category in the 2016 international Nature Talks Photo Contest. Sarah frequently undertakes her own data/ID capture of the lion prides whilst in the Masai Mara and has assisted local wildlife projects and conservancies with her knowledge of the local wildlife. In addition to her wildlife photography Sarah spends the winter season working in Abisko, Sweden as a Northern Light photographic guide for the prestigious and market leading company 'Lights over lapland. When not capturing images Sarah enjoys snowboarding, travel writing and chronicling our adventures in our travel blog.

Andy Skinner
As well as his strong photographic skills and excellent knowledge of African and North American wildlife. Andy has a particular skill for interpreting and identifying many animal calls, which enhances our ability to understand nature in depth and locate wildlife. Andy is also a very skilled mechanic and his practical skills are second to none! (Having completely rebuilt our Land Rover before it was shipped to Africa in 2009) He is also highly competent in off-roading 4×4 vehicles, which helps in navigating the tough African terrain.
Andy's wildlife photography skills have been recognised recently with two images awarded with 'honours' in the prestigious 2016 Natures Best Africa photographic competition.